Court Briefs
(see Legal Services)
At XPress Copy, same day turnaround is the norm.  A wide range of color covers and bind types are available, but court requirements will usually dictate which colors and which binds are acceptable.  XPress can advise you, taking advantage of our 30+ years' experience copying briefs and appendices.

XPress Copy is well aware that court deadlines are not flexible!  We understand the vital importance of delivering your copies on time.

We do need your help making specific decisions:  Do you want your original documents bound?  Do you need a repeat cover?  Do you want acetate on front? On the back? Both?  What is the exact color of cover and back?  Please be prepared to answer all these questions before we start copying.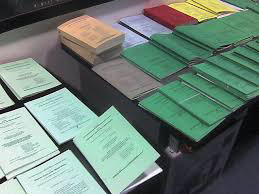 Customer Service members are standing by ready to answer any questions you may have on this product or any others.
Tel: (207) 775-2444 / E-Mail: orders@xcopy.com